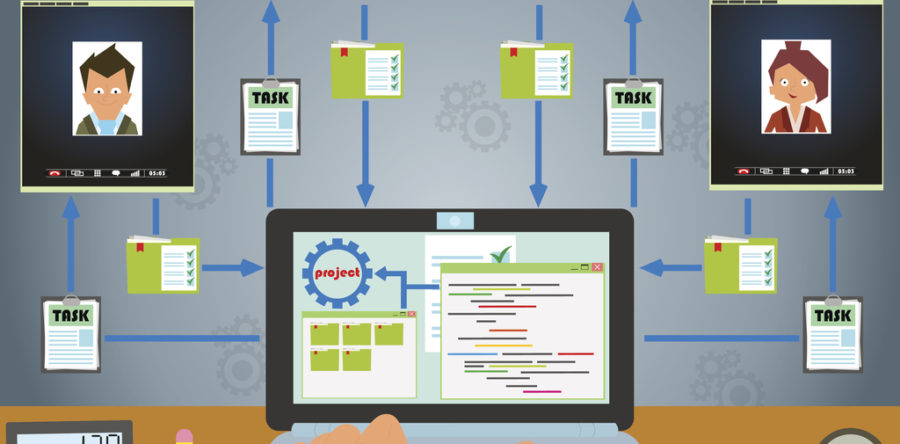 Why Remote Workers Are a Trend Employers Can't Say No To
Think about the business environment of previous generations, when working from home or another remote location was just that—remote, in terms of connectivity to other coworkers and management. Without cell phones, email, text, IM, or even fax machines, interoffice communication was clunky and slow, relying on personal landlines or pagers to route messages and make calls. What a difference a decade makes.
Even just ten years ago, such positions were typically a telemarketing or customer service role paying at or below minimum wage, recalls one human resources director at a web company that relies heavily on skilled remote workers today. Now, accomplished career employees cut across a variety of industries such as medical/health, accounting, and technology. Accounting firms, for example, are hiring remote accountants, bookkeepers, and office managers. This includes junior-grade individuals as well as top-level, very experienced workers whose most senior professionals can command six-figure salaries. In return for in-demand experience in accounts payable and receivable, bookkeeping, payroll services, and tax and strategy, companies of all sizes are offering compelling compensation packages for remote employees.
From office perk to business strategy
Thanks to technology making Wi-Fi connections widely available, businesses across many industries are increasingly eager to evaluate opportunities where they can take on remote employees—because the growing popularity of this mode of work means that, unless companies offer them to potential employees, their competitors will. Telecommuting has exploded in the last decade, increasing 115%, with 2.9% of the entire U.S. workforce (nearly 4 million Americans) currently working remotely at least half of their workweek, according to Flexjobs' State of the Remote Job Marketplace report. One remote job posting company saw its listings increase a whopping 51% in the three years from 2014-2017.1, 2
The forecast on recruiting remote employees remains white-hot, with forecasters anticipating that nearly one-third of all employees will work remotely within the next decade.3 Most often, today's remote employees are educated, with at least a bachelor's degree which allows them to command a median salary that exceeds that of an office-based worker. The field is split nearly evenly between men and women, (52% vs. 48%), with an average age of 46.2
Working from anywhere to anywhere
Nowadays, these people in the workforce—especially the top candidates that employers most want to attract—have an expectation that their employer will have an option giving them the ability and freedom to work remotely from anywhere. It's increasingly common for employers to also offer remote workers compensation packages that include traditional components that previously were available only to full-time employees such as medical, dental, and vision insurance; worker's compensation, unemployment, life, and disability insurance; paid sick, holiday, and vacation days; and educational assistance.
Connectivity must be simple and fast
For the remote model to work effectively, employees must have immediate access to what they need to perform their tasks. Thanks to the proliferation of broadband, connectivity has been made so much simpler. Companies will typically issue remote staff a laptop computer, printer, and other business supplies and materials. In some cases, periodic face-to-face meetings may amplify virtual gatherings to foster networking and personal connections and offer intensive group sessions and training. Other than that, technology ranging from email and instant messaging to cloud-based workforce management options, webcast video conferencing and more offer remote workers connectivity to the corporate hub.
Consider the benefits to employers
When employers offer remote employment, they can win in several ways, as noted in a report published by the Telework Coalition. Companies can:3
Attract and retain the best workers
Experience a 22% increase in productivity
Increase ability to retain employees, more easily converting them to full-time if needed and split multiple people over a task if funds are short
Realize cost savings on office space (businesses report saving an average of $20,000 annually per remote worker)
See a 50% education in employee turnover
Improve employee health (workers live more enjoyable lives with additional time for rest, recovery, doctor's appointments, etc.)
Reduced absenteeism
On the other side of the table, employees say the positives of working remotely are numerous:
Flexible schedules to accommodate personal, family, or school needs
Better work/life balance
More time to spend with family
Eliminated or reduced commute, which alleviates commute stress
Cost savings with eliminated or reduced transportation costs or wear and tear on their automobile
Creating a reduced carbon footprint (particularly appealing to Millennials and GenXers)
Freedom to indulge personal quirks that enhance an individual's comfort and ability to concentrate (everything from wearing a t-shirt and flip flops all day to blasting hard rock or enforcing library-like silence, keeping one's space at a glacial or hothouse temperature that others wouldn't tolerate, etc.)
The downside of remote workers
However, just as there are many benefits of hiring remote employees, there are challenges that can threaten the efficacy of any company's plan. At the least, disorganization, needless mistakes, and miscommunication can be a nagging constant when dealing with remote employees who work different hours across different time zones. In a worst-case scenario, an auditors' investigation found that a person who was supposed to be working remotely (and exclusively) for Company A was discovered to actually be working full-time for Company B—his manager rarely met with the employee and wasn't truly aware of how many hours the employee was charging to various jobs, or the schedule for completing any of his work. The defense contractor that had hired Company A had to be refunded for the portion of work the employee had fraudulently charged, plus penalties, amounting to seven figures. Consider other concerns—primarily, more work for managers (more employees working part-time translates into an overall larger staff to manage) and increased security risks (information and the entire company can be compromised if communications and collaborative sessions are conducted on platforms that are not encrypted or trusted).
Managing remote employees: close hold is best
To effectively utilize your remote workforce, it is therefore essential that companies embrace—and enforce—a stepped-up business culture. This will require establishing a set of behaviors to which everyone must be held accountable—not just the remote employees themselves, but the people who manage them. Clearly written and agreed-upon goals, processes and deadlines set the stage so that all expectations are firmly established; don't shy away from setting up guidelines (e.g., response time requirements for email and voicemail, phone availability, communication protocol for urgent discussions or emergencies, weekly one-on-ones, etc.). You'll know that people are performing by the results you're getting. As we discussed in a previous article, at a la carte, we have remote staff throughout the city and measure how well we are doing by the how long our clients stay with us and how often they refer business to us.
Nip the loneliness, isolation and lack of social engagement that's inherent in remote work by encouraging a certain amount of social interaction among the team via various communication channels. And, just as important, managers must make time to foster rapport with remote workers; ask questions about their families, their hobbies, whether they've seen the latest movie. The kind of simple connections that would normally be built around the water cooler are harder to create with offsite employees and can often be overlooked when deadlines are top of mind. Wherever these workers are based, managers can make them feel part of the organization via quick replies to any questions they have. Frequent and regular engagement, especially via meetings that allow face-to-face conversation where you can make eye contact while discussing project developments, will help workers bond across location borders and help managers stay abreast of their remote employees' effectiveness. In fact, because studies show that more than 50% of human communication is non-verbal, the importance of connecting with remote employees via cannot be overstated.4
Today's workforce is increasingly mobile, dynamic, and flexible—and employees' appetite for working remotely is growing by leaps and bounds. To keep pace, it's key that employers are as agile as their workforce in looking far beyond the 9 to 5 conventional office setup and enabling employees to plug in and work whenever and wherever it makes sense to do so—securely and efficiently.
1Flexjobs.com
2smallbiztrends.com
3Wired Working as a Lifestyle, the Telework Coalition
4Dr. Albert Mehrabian, Silent Messages.