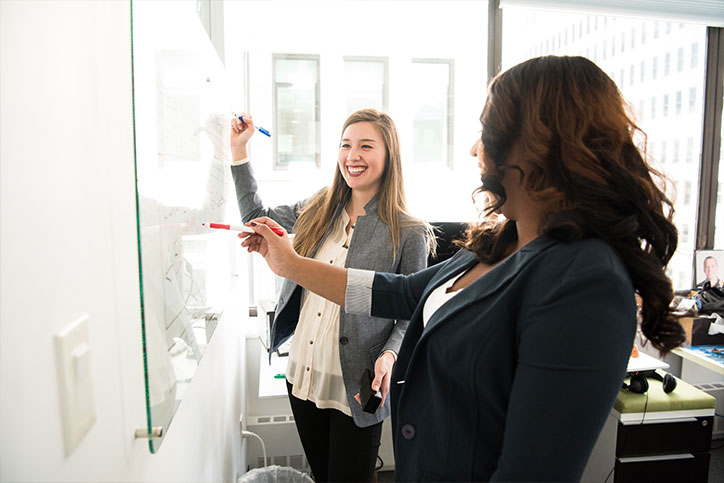 How to Reduce the Impact of Employee Turnover on your Business
The turmoil of the Covid-19 pandemic has changed the way in which we do business and how we live our lives. For businesses, it has become increasingly more difficult to find the ideal employee because of the ways in which peoples' lives are evolving. More people want to work from home, are in the middle of relocating, or just have different, new perspectives of work life.
As a result, the costs of recruiting the ideal candidate have skyrocketed, which impacts the costs of employee turnover.
In this article, you will learn how to estimate the costs of turnover in your company, and how to reduce turnover costs. You will learn strategies for more effective recruiting and onboarding, as well as strategies for keeping employees engaged long-term.
What is Turnover and How Much Does it Cost?
Turnover is the rate at which employees leave a workforce and are replaced. It's easily calculated by taking the number of separations you've had, and dividing that by the total number of employees over a given period of time.
# of separations
# of employees
Generally, 10% or less is an acceptable turnover rate depending on the life stage of a company. Unfortunately though, most organizations experience turnover rates between 12-20%.
When you think about all the time and money that goes into replacing an employee, the costs of turnover can be significant. For example, writing a job description and a job advertisement, paying the advertisement fees, reviewing resumes, interviewing candidates, negotiating compensation, writing offer letters and communicating with candidates – the list goes on. . That doesn't include the onboarding and training time it takes to get the new employee up to speed. And on top of all of that, there's the immeasurable costs of losing relationships and the tribal knowledge the former employee had developed over the years.
When you add all of that up, turnover actually can cost up to 2x the employee's annual salary for each position. For example, a 100-employee company with an average salary of $50,000, and a turnover rate of 10% turnover could experience annual costs of up to $500,000 due to employee turnover!
Here's the math on that:
Number of employees on payroll x Avg. Employee Salary x Turnover Rate = Annual Turnover Cost
Given all of that, it makes sense to really focus on decreasing both turnover as well as turnover costs. To do that, focus on 3 key things:
Effective Recruiting
Focused Onboarding
Employee Engagement
Below are our recruiting, onboarding and employee engagement processes. These systems have been developed over many years, and have led to reduced turnover for our company.
Recruiting
We have all gone through the misery of hiring a lot, hiring often, hiring the wrong people, letting them go, rinsing and repeating.
Luckily, there are some solid principles that can be implemented to find and hire the right people for the long run.
Over the years, we've developed a robust recruiting process that helps us not only attract the right people, but also helps identify which applicants are not the right fit.
Job Advertisement
Every recruiting process should start with a solid job advertisement. Your job ad should be more than just a job description. It should describe the company, its culture and values, and allow the reader to get a feel for what a day-in-the-life looks and feels like.
The most essential component of the job ad is to convey to readers what kind of applicant you're looking for, as well as to be very clear about what you are looking for, as well as what you are NOT looking for, in a candidate.
A well-written job ad will attract candidates that are a good fit for your culture and values, and repel the ones that are not.
Initial Screening
During the application process, each applicant should be asked to answer a series of screening questions. A good applicant tracking system will eliminate and disqualify certain candidates right off the bat. For example, you can have your applicant tracking system automatically disqualify candidates that don't live in your geographic region or don't meet your other essential criteria.
Resume Review
Once the applicant successfully gets through the screening questions, their resume is then reviewed and scored against an established rubric.
The rubric is especially helpful in keeping consistency across candidates and applications. Come up with 5 or must-haves and score resumes based on how many of those are present on the candidates resume.
Resumes that score above a certain number should move on to the next phase.
Assessments
The next stage in our process is the assessment stage. We administer 3 assessments: a behavioral assessment, a cognitive assessment, and an accounting test.
Behavioral assessments allow us insight into how the employee will work in terms of his/her workplace behavioral traits. We first create a job profile for every position and then we compare the results of every candidate's behavioral assessment to the job profile in order to determine job fit.
Cognitive assessments help us understand how quickly an employee can adapt and learn new things on the job. In our company, our employees are often required to learn new technologies, new software, new industries and new systems. Learning quickly is an essential part of success In any position at our company.
If both the behavioral assessment and the cognitive assessment results look good, the applicant will then be asked to take a live accounting test. The accounting test is administered over zoom through a screen share and consists of basic accounting concepts.
This is actually considered the first interview, so in addition to testing their accounting skills, we are also observing other aspects about the applicant's communication abilities and how they present themselves.
The accounting test itself is very simple, but you would be surprised how many applicants cannot pass it. If you are hiring for a technical position, we highly recommend creating your own skills assessment.
Interviews
The final two stages are the interviews. The first interview is with a few members of the team. This is a chance for our team and the candidate to see if there is a true culture fit. The conversation should flow well and there should be a good exchange of questions and answers going both ways.
The final interview is with our President and CEO. At this stage in the process, the candidate should be asking a ton of questions. Employers can tell a lot about a candidate based on what they ask, as well as what they don't.
Onboarding
Onboarding starts the moment the candidate accepts the job offer. Whatever you do after that sets the entire tone for how they'll feel the rest of their time with your organization.
You will want to welcome and congratulate them, introduce them to the team, and even send a gift with a handwritten note. Whatever you can do to make the newly hired feel a warm welcome is encouraged.
Their first day on the job is important for getting to know as many people as possible, getting a sense for the inner workings of their new team and culture. Ice-breaker games are always a good idea.
'Welcome' Book
We recommend that you create a welcome book for all new hires that will be a powerful resource for them for every aspect of their new job. Our welcome book includes things like:
who we are
what to expect
our core values
vision
mission
what services we offer
who they report to
performance review process
KPIs within their role
IT contacts
HR contacts
Other need-to-knows
You can even give them a list of ideas for what to do when they need a break from work, including a list of books and articles that might be of interest as well as helpful tips for work life balance and other suggestions.
Proper Check-ins
During the first week, schedule daily check-ins at the end of each day. After that, schedule weekly check-ins at the end of each week.
On their first month anniversary, we do a first month check in. These are some of the questions we ask:
What's going well so far? Describe some of your best experiences.
Is this role what you thought it would be? How is it different from your initial expectations?
Are you experiencing any challenges that we can assist you with?
Do you have enough time to do your work? Do you have too much time or too little time?
How can we help you improve and learn? How can we support your growth?
Do you feel you have the information, tools, and resources you need to do your job successfully?
Are you comfortable asking questions about work? Do you know who to go to? And are there any introductions that we can make?
Are you feeling comfortable within the organization, in general?
Do you feel like you have a good understanding of your role within the organization?
Is our company's mission clear? And do you see how your job supports the mission?
Do you have any suggestions for, or do you see any weaknesses in our systems, processes, and procedures that you think we can improve?
Is there anything else that you'd like to say that you haven't had the chance to say yet?
Engagement
You want to make sure your new employee feels supported as they learn and grow in your company, employees should be recognized and rewarded as often as possible. The number one reason employees leave companies is because they don't feel valued and appreciated. Go the distance to make sure your employees know how much their involvement matters and how positively they are impacting the organization.
Encourage fun and games wherever possible, encourage friendships among teammates, and have them get to know one another on a human level.
The idea is that if you incorporate as much of the human aspect of the employee/employer relationship as possible, then people can be themselves and bring more of themselves, their humanness, to work with them. As author- researcher, Brené Brown Ph. D., LMSW, says,
"If we want to reignite innovation and passion, we have to rehumanize work."