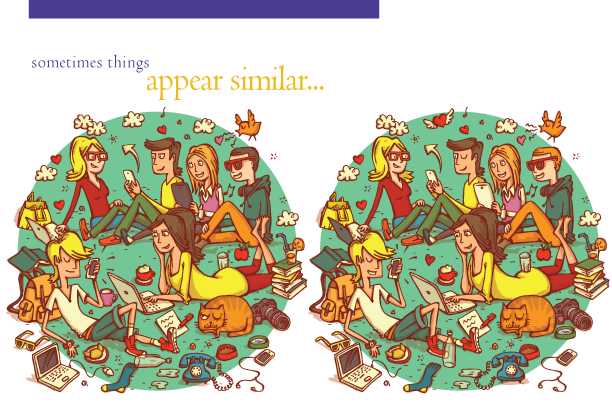 Controller vs CFO – What's the Difference?
when you look closely, you can spot the differences… and understand how those differences really matter.
As children (and sometimes as adults), we used to play that game of "FIND WHAT'S DIFFERENT" between two similar photos. It was a novel way to pass the time and it was an excellent developmental tool to hone our perception skills.
As business professionals, distinguishing the differences between your accounting and finance people — and determining whether you have the right person in the right role — may prove to be the difference between success and failure.
In your business, it is so vitally important to have the right people in the right roles, particularly when it comes to your business' accounting & finance department. From education to compensation, from services to personalities, the differences between the members of your finance team can be rather significant for your department — and to your bottom line.
Why does this matter?
1) Increased Frustration — The wrong person in the wrong role means you might be overpaying them, overwhelming them, or both. Over time, frustration will build for you and for them. Set yourself and your employees up for success — make sure you're not trying to fit a round peg in a square hole.
2) Increased Costs — A person who lacks the skills/experience to do the whole job could lead to costly errors. Trying to save money on salaries will cost you more elsewhere. Don't do this. Get the right person at the right price.
3) Increased Turnover – The wrong person in the wrong role means they will move on more quickly — or need to be replaced. That means more of your time and money spent recruiting, training, onboarding over and over again and again. Instead, make sure skills, personality, experience are a match for your long-term needs, not just for today.
4) Increased Risk – Terminating an employee for performance issues because they were unfit for the role requires proper diligence and documentation to avoid costly lawsuits. Why take on that risk? Spend some time making sure you've got the right person in the right seat. It will be worth it in the long run.
What exactly is the difference between a Controller and a CFO?
To illustrate my point, here are some key differences between Controllers and CFO's:


If you have a Controller at the wheel driving your business, he/she would hover over the brake pedal, drive cautiously and methodically, staying in the same lane, foregoing opportunities to change/improve and get ahead. If you have a CFO at the wheel, he/she would hover over the gas pedal, looking forward to avoid accidents or slowdowns, while alert for opportunities to change pace and get ahead. Each professional brings vital skills to the table and every business needs both. Here are some other differences: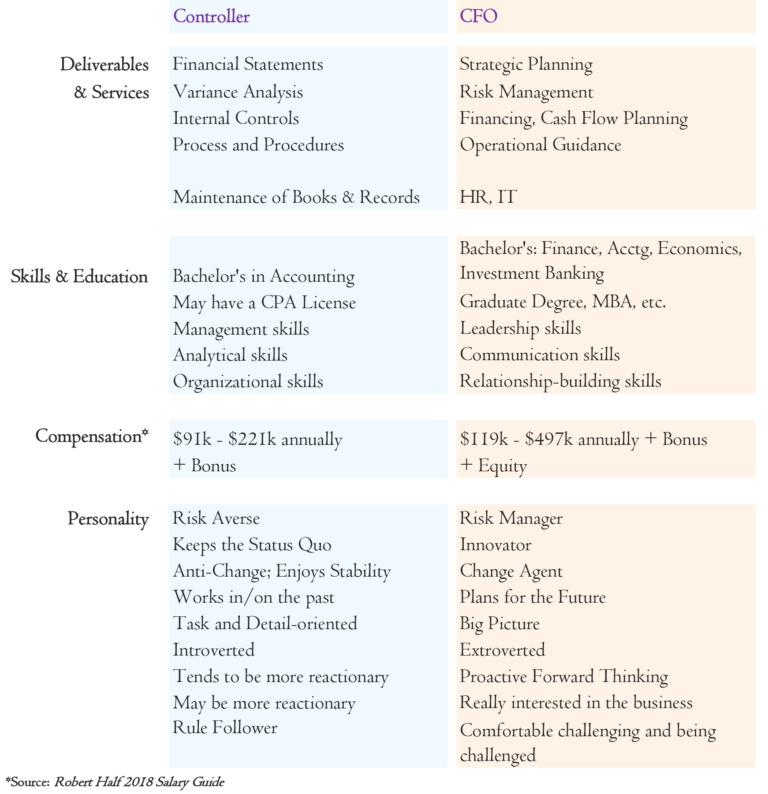 Essentially, a Controller tracks and reports on the past; a CFO envisions, plans and drives the future. Both are vital and integral components of a solid finance team.
At a la carte solutions, we help companies make sure they have the right finance team in place by offering custom-tailored flexible, outsourced solutions. We understand how important it is to have just the right personnel.
When it comes to your accounting and finance team, we know the difference.
Stay tuned for upcoming blogs about specific techniques for assessing if you've got the right people working in the right roles. Or, of course, feel free to reach out directly to discuss any of your needs for your accounting and finance team.