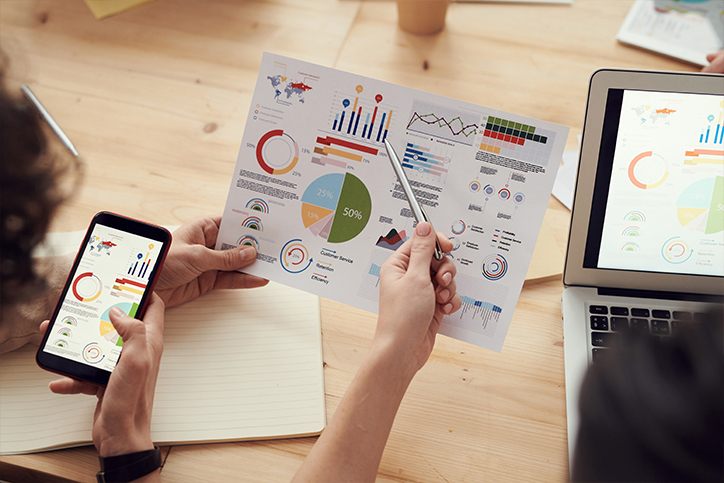 Are you Over or Under Investing in Your Sales and Marketing? Use CAC and CLTV to find out.
We often get questions from business leaders who are confused about how much they should be spending on their sales and marketing. If you are in need of a North Star to measure your spending in the area of sales and marketing, then you've come to the right place.
Among other things like budget and cash flow levels, investments in sales and marketing efforts should generally be based on 3 things:
Your company's Customer Acquisition Costs (CAC)
Your company's Customer Lifetime Values (CLTV).
The relationship between the two.
This month's business tip offers a look at calculating both CAC and CLTV, as well as the relationship between the two. These 3 calculations are Key Performance Indicators, or measurement tools used to determine the appropriate spending levels for sales and marketing efforts.
**Pro Tip: CAC and CLTV are KPI's readily tracked by investors and stakeholders in industries where there is recurring revenue, like SaaS companies. But the concept can and should be applied to other industries quite easily.
Customer Acquisition Cost (CAC)
Simply put, CAC tells you what it costs you, on average, to acquire a single customer. It is calculated by taking all costs related to your sales and marketing within a given time frame and dividing it by the number of customers acquired during that time frame.
In its mathematical format:
Sales and marketing dollars spent
# of customers acquired
Ideally, you'll want to look at annual data, but it can certainly also be beneficial to look at 6 or 9-month periods, if your business is growing rapidly, or if recent events are vastly different than historical ones.
Sales and marketing costs should include any and all costs that were associated with your efforts in those areas, either directly or indirectly. Examples are:
payroll costs (including taxes and benefits)
bonuses
ad spend
CRM software
your website
conferences and events
networking events
For example, let's say your 2020 sales and marketing expenses total $363,900 and you acquired 18 customers during the year. Your 2020 CAC would be $363,900 divided by 18, or $20,216.67. In other words, it costs you about $20k to acquire each customer on average.
Now, you're probably thinking "Is that good or bad?" Well, that depends. Read on to learn how to use your CAC calculation to benchmark your results.
**ProTip! Have your Bookkeeper/Accountant create a section in your Income Statement for Total Sales and Marketing so you can easily and quickly see what your total expenses are! Compare your CAC to your Avg Annual GP$ per customer (aim for a ratio of less than 3), or calculate your CAC payback period to figure out how long it takes to recoup your acquisition costs (aim for less than 24 months).
Customer Lifetime Value (CLTV)
CLTV is essentially the value a given customer will provide to your company over that customer's lifetime.
There are several ways to determine CLTV, including using revenues or discounted cash flow. We recommend using gross profit dollars for the most conservative calculation because it takes into account not just your revenues, but also your costs.
To calculate CLTV, you'll need to know 3 things: Your company's average annual recurring revenue per customer, your company's gross profit margin %, and your annual churn rate. Multiply your average annual revenue run rate per customer by your Gross Profit percentage and divide by your churn rate (the percentage of customers lost) for any given year.
In its mathematical form:
ARR per customer * Gross Profit %
% Churn
For example, let's say your Avg. Annual Recurring Revenue per Customer is $60,000 and your Gross Profit % averages about 30%. At an annual churn rate of 10%, your CLTV would be 60,000 multiplied by 30% divided by 10%, or $180,000.

In other words, the value to your business for every customer acquired is $180k over that customer's lifetime with your company.
It's as simple as that!
Now, if you're wondering how that compares to your CAC and how to benchmark your numbers against others in your industry, read on.
The CLTV : CAC ratio: what it means, and how to use it
At this point, you have two, albeit separate, parts of your company's performance measured. You know how much it costs you to acquire your customers (CAC), and you know how much your customers are worth to you (CLTV).
Now, by comparing the two together, you can begin to understand whether the investments you are making in your sales and marketing make good business sense, and what adjustments need to be made, if any. The comparison of CLTV to CAC conveys the typical return on investment received from your sales and marketing activities.
To start the comparison, take the CLTV : CAC ratio, which is simply CLTV divided by CAC. Using our numerical examples above, CLTV of $180,000 and CAC of $20,217, gives us a ratio of 8.9. That means for every dollar invested in sales and marketing, you're earning nearly $9.
A healthy CLTV/CAC ratio is somewhere between 2 and 6. If your ratio is less than 2, your investments in Sales and Marketing are heavy, compared to the return on that investment.
This might be OK, if you are a start-up or early growth stage company. Otherwise, you should look at ways to reduce sales and marketing expenditures and/or increase customer lifetime values by reducing your churn rate, increasing your revenues, and increasing gross profit.
On the flip side, if your CLTV : CAC ratio is higher than 6, you'll likely enjoy higher levels of growth if you increase your investments in sales and marketing. If you don't, you're likely leaving money on the table.
**Pro Tip: Be sure to look at trends in your CLTV : CAC ratio over time. Add this to your monthly or quarterly Key Performance Indicators to measure your performance continuously. You can also use this as part of Incentive Compensation or bonus plans for your employees! It's a great way to get your sales, marketing, and operational departments working together on the same goal!
While CAC and CLTV can be valuable tools to measure company performance, there can be challenges to accurately calculating this metric, and all of its components.
For example, if you are a small business or in the early stages of your company, you'll need to make assumptions about your customer's life cycles that may or may not be accurate. Those assumptions, since they are not likely to be grounded in data, make the metric susceptible to wild swings.
Also, keep in mind that these metrics are using historical information. To the extent that your operations and business will be vastly different in the future then, your metrics today may not be useful. For these reasons, we recommend taking a holistic view in measuring company performance by using CLTV/CAC as part of a carefully developed set of Key Performance Indicators that provide insight into various drivers of operational growth and profitability.
Conclusion
Using CAC and CLTV, you can determine the best strategies for investments in sales and marketing. Be sure to benchmark your performance by comparing your metrics to industry standards and to your own historical trends.
Include CAC and CLTV in a carefully crafted set of Key Performance Indicators for your company to get a holistic view of your operational performance and profitability.
If you have questions on any of this, or need help determining your KPI's, please reach out! Click on Get Started above to contact us directly. We'd be happy to answer your questions.
For more useful tips like these ones, you can also check out any of the categories of videos and articles we have created for you under our Business Tips section.
A massive thank you to Neeta Shah for being the inspiration behind this month's helpful topic!