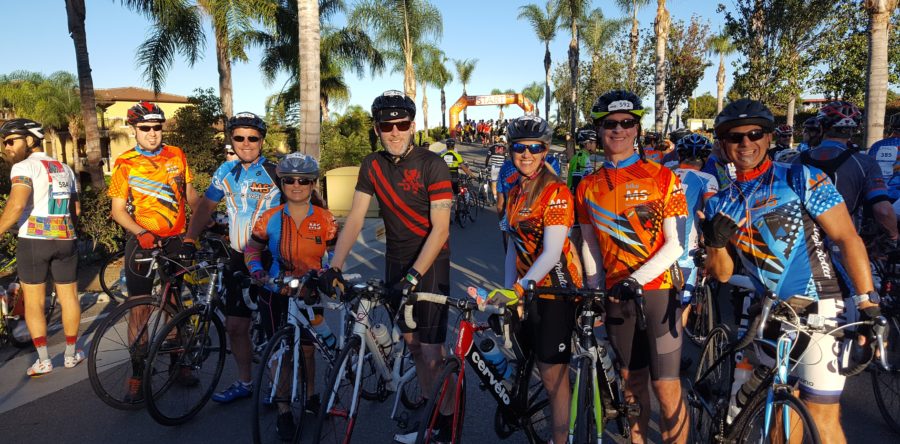 A personal cause… a team effort… a universal journey
While on deployment in Dubai at the age of 31, my brother was diagnosed with Multiple Sclerosis (MS). 24 hours later, he was helicoptered off the aircraft carrier and shipped home to San Diego. when I picked him up at the airport, he was barely able to walk.
Multiple sclerosis (MS) is an unpredictable, often disabling disease of the central nervous system that disrupts the flow of information within the brain, and between the brain and body. symptoms range from blurred vision, loss of balance, poor coordination, slurred speech, tremors, numbness, extreme fatigue, problems with memory and concentration, paralysis, blindness and more. MS is different for everyone. That makes it all the more challenging to solve.
there is currently no cure for this unpredictable and disabling disease.
so to help raise money for continued research and education, for the third year in a row, I participated in BIKE MS: Bay to Bay 2017, a two day, 100-mile bike ride from Irvine to San Diego (October 21 & 22, 2017).
riding 100 miles is a daunting challenge. thankfully, it is not one I met alone. I was joined in this effort by a la carte solutions friends, family and colleagues. and I could not be more proud or inspired by their — our — efforts.
our team, No MSing Around, raised almost $8,500.
it was exhausting and exhilarating; it was long, but rewarding. it was such an amazing experience to join 2500 participants along California's south coast as we pedaled and sweat to make a difference.
at a la carte solutions, making a difference is something to which we are truly committed. for me and my No MSing Around team, this was just one way. for those that supported us financially or emotionally, our most sincere and earnest 'thank you.' and it is due to some of the incredible advances in research and medicine, that I can also gratefully say, 'my brother is now nearly back to his normal self.'